GAR is an acronym for our founders, Galen and Ruth Roush, pronounced je-ay-ar.
Galen Roush co-founded Roadway Express during the Great Depression in 1930 with his brother, Carroll. Their first shipment was a load of B.F. Goodrich tires which left Akron, OH headed for St. Louis, MO. By 1939, Roadway was the largest long-haul trucking company in the United States.
Through careful stewardship and superior service, Roadway Express grew into a global transportation company serving over 100 countries by the 1990s. Galen believed superior service was much more than delivering freight on time, it was about the experience.
Because of his servant-minded leadership and the innovation of Roadway's employees, the company excelled in providing extraordinary experiences for its customers for more than 80 years.
Investing in the Akron Community
Galen and his wife Ruth loved their home area of Akron and Summit County and never stopped investing in their community. GAR Foundation was established by Galen and Ruth Roush to be a way in which their legacy of serving others could continue long after they were gone.
Today, GAR Foundation awards more than $7 million annually to nonprofit organizations focused in the following areas:
We are proud of our heritage. Every GAR employee is committed to serving others and continuing the legacy of what was started over 50 years ago.
Andrew Jackson House: Home of the GAR Foundation
The Andrew Jackson House was built in 1868 as the private residence of Akron lumber magnate Andrew Jackson. 
It was then sold to John Johnson for his residence in 1910. In 1918, it was sold to the Independent Order of Odd Fellows, a service fraternity that sought to use it as their temple. The house was used by Odd Fellows for 70 years until it was sold to an individual in 1988.
For the next 20 years, the house sat vacant as the owner tried to convert it into a coffee house for the University of Akron students. The renovation never came to fruition; the house fell into significant disrepair. Over time, people experiencing homelessness occupied the house and built fires on its floors and even used some of its historic trim as fuel to keep warm.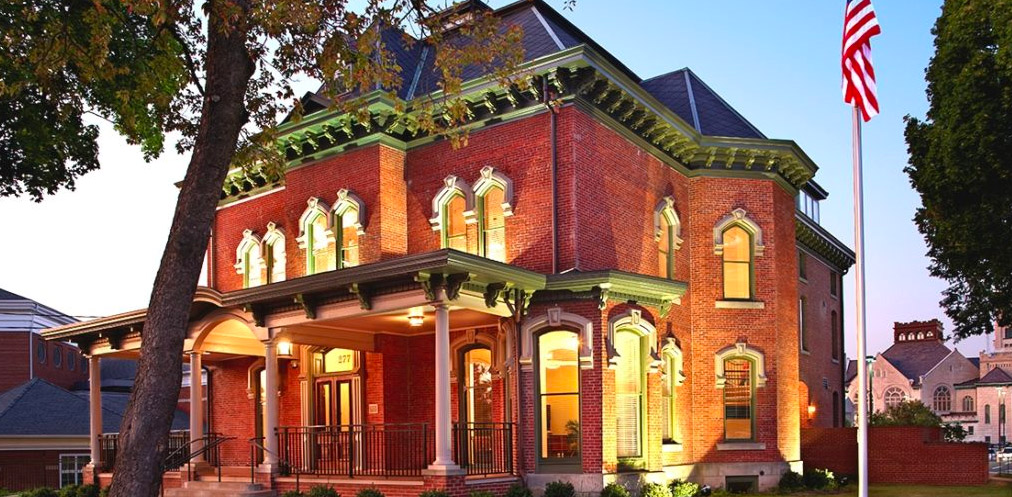 In 2006, the building was condemned for multiple code violations, but in 2007, The Chesler Group, a Cleveland-based historic property solutions company, acquired the house to renovate it as a commercial building for GAR Foundation. The property was fully restored by 2009. Although virtually all systems and components are new, many notable features of the 1868 building remain, including the quarter-sawn oak floors, solid walnut doors, and unique cast bronze hinges. Over 100 construction workers were employed on the project.
 
Andrew Jackson House Facts
The building is listed on the National Register of Historic Place.
It features 15,585 square feet of Class A office space on four finished floors, plus a mezzanine level.
The project is among the first to receive both the State of Ohio and Federal historic tax credits.
The renovation complies with historic standards set forth by the U.S. Department of the Interior.